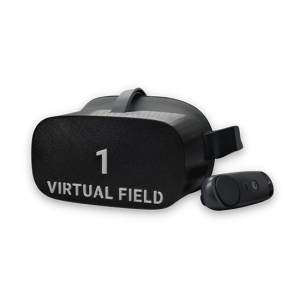 Norfolk, VA, Dec. 1, 2021 – Lombart Instrument, the largest independent distributor of ophthalmic equipment, has entered into an agreement to be the distributor of the Virtual Field VR Visual Field in the United States.  Effective immediately, Lombart will add Virtual Field to its broad portfolio of ophthalmic equipment.
The Virtual Field virtual reality perimeter offers advanced visual field testing and analysis software in an easy-to-use interface. Its lightweight and mobile design allows patients to be tested anywhere with wifi and in any position.
"Virtual Field is the leading provider of VR visual field devices. Our product is easier to use and more comfortable than traditional perimeters and can be moved to any testing or exam room in your office. All that at a fraction of the size and price of legacy instruments," says Aaron Smith, CEO of Virtual Field. "By partnering with Lombart, we're confident that we can expand our reach and help more physicians and patients throughout the U.S."
Virtual Field is the latest technology to help clinicians detect glaucoma, the most common cause of irreversible blindness. Based on prevalence studies, it is estimated that 79.6 million individuals had glaucoma by 2020, and this number is likely to increase to 111.8 million individuals in 2040[i]. Unfortunately, many individuals are unaware that they are affected as glaucoma may be asymptomatic.
In many cases, blindness can be prevented with appropriate control and treatment, and Virtual Field can help with early detection of the disease.
"We are excited to add Virtual Field to our product portfolio.  This innovative technology perfectly aligns with our mission to help practices provide the highest level of eye care to their patients," explains Joe Sabel, VP & General Manager of Lombart Core Products & Services.
About Lombart Instrument
Established in 1979, Lombart Instrument is the largest independent distributor of ophthalmic instruments to ophthalmologists and optometrists in the United States. As a part of the Advancing Eyecare Alliance, Lombart offers the most comprehensive portfolio of products in the market at the most affordable prices. Products offered include classical lane equipment, high-tech diagnostic devices, pre-test instruments, supplies, accessories, and more. Lombart is headquartered in Norfolk, VA.
Advancing Eyecare is currently comprised of Lombart Instrument, Marco Ophthalmic, Enhances Medical Services (EMS), Ophthalmic Instruments, Inc., INNOVA Medical, and S4Optik. The combined scope of the organization has the broadest product portfolio, the most knowledgeable people, and the most reliable service in the industry.
About Virtual Field
Virtual Field is the leading provider of virtual reality visual field devices, transforming the way ophthalmologists detect and monitor glaucoma. The New York City-based company is led by a team whose mission is to make high-quality ophthalmic care available to everybody. Whether you run tests in the exam room or on the road, Virtual Field offers the quickest and most comfortable visual field testing experience.
[i] "Global Prevalence of Glaucoma and Projections of Glaucoma Burden through 2040", Ophthalmology 2014; 121:2081-2090.