By Jennifer L. Stewart, OD
As business owners, we are always looking for ways to improve. How can we attract new patients, improve optical sales, increase ancillary testing, and overall increase our revenue? While we often focus on the details and the facts, telling our patients a story may be the optimal way to success.
Why is storytelling so persuasive, and why should we consider it in business? Stories elicit an emotional response, and research has shown that 80% of purchasing decisions are made with emotion. We often overload our patients with statistics and technical jargon, but stories are more memorable and persuasive than our facts and figures. According to professional storyteller Kindra Hall, "People don't buy the thing. They buy what the thing will do for them." Stories in our practices need to be real, organized, relatable, and delivered with great communication to be personable and effective.
How can we change the narrative in our practices and focus more on emotion? What goals have you set in 2023, and how can a little bit of creativity help harness the power of persuasion?
Optical
Are you looking to increase your capture rate, sell more high-end progressives, double your multiple pair sales, or increase your photochromic lens sales? One of my favorite ways to get patient buy-in is telling stories about patients just like them who were faced with a similar choice and what the outcome was. In our office, we noticed our photochromic sales were not as robust as we would like, and we started by using the common knee-jerk reaction of "sell more photochromics!" When that didn't work, we changed our delivery. Our opticians would ask patients about certain situations where their glasses may not be ideal and offer a solution that another patient found worked well.
An example of this could be: "Mrs. Jones, I love that new crossbody bag you have. My guess is the only downside is that you can't fit all your glasses in there! Is that correct?" (At this point, the optician nods and the patient nods along thinking, she has got it!) "Another patient of mine had the same issue, and found she often was leaving her prescription sunglasses behind! We found a great solution for her. There is new lens technology that allows your lenses to change from light to dark with the sunlight, simplifying your life and lightening your pocketbook? She just kept her sunglasses in the car and wore her new pair for everything else. Wouldn't that be a great solution for you as well?" Mrs. Jones now has invested in the story of this other person, has found a common ground, and is interested in the same solution that helped them.
Ancillary Testing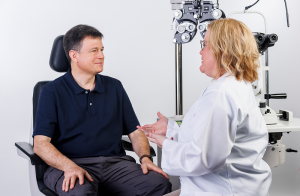 Many offices are embracing technology and adding equipment to improve the care they deliver to their patients. Unfortunately, many of these tests are not covered by vision care discount plans and are an out-of-pocket expense for patients. While this can often be a barrier for practitioners looking to add diagnostic equipment to their practice, harnessing the power of stories to help patients understand the value and importance of these tests is extremely effective.
Our practice provided annual OCT wellness screening for patients at an out-of-pocket cost. As many new patients were not familiar with this type of care so it often fell to our front desk and technicians to help them understand why we did it and why it wasn't covered. To help them better explain this to patients, we once again used stories.
Patients often have a hard time understanding why they need a test when "nothing is wrong" and they "feel fine." My staff began to use stories about patients "just like them" who came in for routine, comprehensive care and thanks to the detailed testing we did, were identified as being a glaucoma suspect. We used a true patient case of a new, young, patient coming in for an updated glasses prescription. Our screening discovered that she hadhad elevated intraocular pressure and suspicious OCT images. Thanks to the baseline imaging, we were able to start the patient on our protocol for glaucoma suspects and protect her sight. We all have patient stories like this, but making sure your staff know the stories and can share them with patients will make adding diagnostic testing more powerful and increase patient compliance.
Where else can you use stories to change patient behavior? Do you have a great story about how happy a patient was when they changed to daily disposable contact lenses and were able to wear their lenses all day due to better comfort? Do you provide dry eye testing and treatment and have a patient success story? Myopia management is another great specialty where stories can be powerful. Parents want all the information possible about treatments for their children, and being able to share ways that you have helped other children can help with buy-in and compliance.
Take a step back from your practice and look at the patient journey. Are there places that your front desk, technicians, optical team, and doctors can infuse storytelling to change behavior? Think about the last purchase you made.as it based on a recommendation from a friend, an online review, or a target influencer ad on social media? Storytelling is an incredibly powerful tool that we can all use in our practices for increased success.
About the author:
Dr. Jennifer Stewart is an optometrist, internationally recognized speaker, writer, consultant, and entrepreneur.
She has a passion for helping optometrists and organizations with operations, sales success, practice management and sales team training through her advisory and consulting firm, OD Perspectives. She is the Professional Editor of Independent Strong, is an Adjunct Assistant Professor at the New England College of Optometry and a consultant for Coopervision, MacuHealth, GPN and Zyloware. She is also the recipient of the 2022 Emerging Leader Award from the Optical Women's Association.
With a deep interest in sports vision, Dr. Stewart is the Co-Founder and Chief Vision Officer for Performance 20/20, which provides services for sports and performance vision training. She is a recipient of the Theia Award for Innovation by Women in Optometry and serves on the Executive Board for the International Sports Vision Association.