By Jennifer L. Stewart, OD 
In optometry, we often think that more is better – bigger offices, larger staff, more frames in the dispensary – but when it comes to exam time, is longer really best?
Optometrists pride themselves on providing a great patient experience.  We invest in beautiful offices, spend time training our staff members, invest in the latest technology, and proudly showcase the latest fashions in our opticals.  We also want to make sure the patient leaves with no questions unanswered and fully understands their visit, which often leads to us believing that a longer time in the exam room is what patients want and expect.  However, is this what is truly best for our practices and bottom line?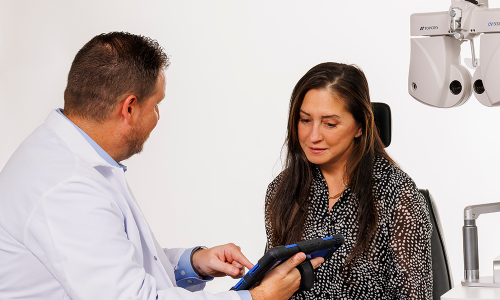 When I was practicing, my goal was to be as efficient and effective as possible in the exam room.  But I also wanted to move the patient through the office in a timely manner in order to get them to spend the bulk of their time in the optical.  Patients have set a time limit of how long they can spend with us in their day so I felt it was best that they had the time to choose glasses (and multiple pairs!) without feeling rushed or telling us they would come back (which they likely wouldn't). 
Improving Your Efficiency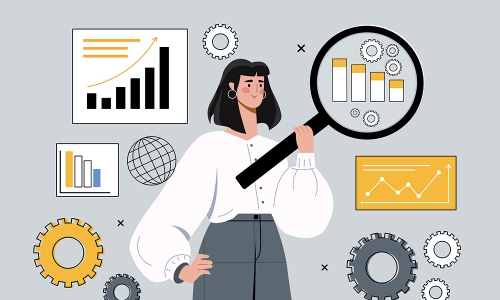 One of my favorite exercises for doctors to learn how their office operates is to first have each staff member take a guess (doctors too!) at how long the patient spends at each part of their patient journey.  This includes check-in, waiting room, pre-testing, waiting in the exam room for the doctor, the eye exam, optical time, and checkout.  I call this the "Post-It Note" exercise, as we would write the time that the patient started and completed each step on a post-it note. 
What were some of the discoveries?  We had huge inefficiencies in each step, leaving the patient with too little time to spend in the optical.  This is a great time to talk to each department about ways they can improve, and what they think the outcome will be. 
Reception
Emailing paperwork ahead of time or using a patient portal to collect information can save significant time at check-in. Is it even possible to eliminate your waiting area and have a technician ready to bring the patient back as soon as they arrive? 
Many patients also today prefer to book their appointments online at their convenience, freeing up the in-office staff from long phone calls or back and forth email conversations.  Two-way texting is also quick and efficient and the way that many of our patients prefer to communicate.
Pre-Test
If the patient has already filled out their ocular and medical history and it syncs directly to our EHR, you can shave off precious minutes for the technician in the pre-test routine. Thinking about technology can also save time from having the patient have to move to different stations. We now have amazing tools at our disposal that combine multiple instruments into one, reducing the need to move the patient from machine to machine. Virtual Reality (VR) devices are empowering ECPs to conduct a myriad of tests with more speed and flexibility than ever before. There are so many options available today to customize and speed up your pre-test patient flow.  
Exam Room
Once the patient is in the exam room, scribes could help the doctor be more efficient in their charting.  Additionally, technology advances that import pre-testing information directly into the exam room and EHR system exist, allowing the doctor to use that time to educate and communicate with the patient instead of manually entering data. For example, leveraging a digital refractor can speed up the exam by yielding faster testing and immediate data transfers to the EHR system. This automation provides a high-end patient experience, leaving you more time to educate and connect with your patient. The cumulative time spent in the exam room is less, but the quality time spent with your patient is more. It's a win-win!
Optical & Checkout
Once the patient is done in the exam room, streamlining the handoff to optical can expedite the process.  Can you directly send all relevant information to your opticians, including prescription(s), lens recommendations, and treatments so they automatically have that information when the patient arrives? 
Consider in-office finishing to deliver eyewear to your patients faster while also lowering your lab costs and controlling the quality of your finished product.  Providing more convenient optical services will not only help increase your capture rate, but also your patient satisfaction.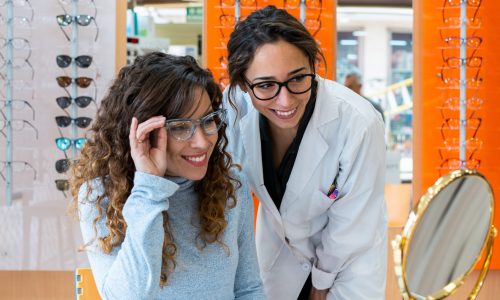 Finally, giving the optical staff the flexibility to check the patient out and collect payment information, can streamline the checkout process and eliminate a step in the patient journey.  Further, emailing receipts and prescriptions or using a patient portal allows the patient to be on their way quicker.
Multiple Benefits to Your Practice
What is the benefit of increasing your office efficiency?  There are many and it all goes back to your practice goals. 
Do you want to increase revenue by seeing more patients? Shaving off 1-2 minutes (or more!) from each exam will allow you to see more patients in the same number of hours. 
Looking to increase your per-patient revenue? Leverage technology to increase your billable tests, obtain valuable clinical data for a more thorough exam, and provide a high-end experience for patients (and without adding additional time to the overall time spent in your practice!). Getting patients to the optical more quickly also gives them more time to shop and browse. 
Looking to increase staff happiness and morale? Giving them a stake in making office decisions and making them responsible for outcomes makes them feel more connected and part of the team. 
Want to provide more quality time with your patients? Refining your office workflow allows you to spend more time communicating and educating your patients.
Want to cut back on the hours spent charting and in the exam room? Those precious minutes that are freed up become yours to do what you'd like – take a break, work on staff training, grab a coffee, or continue to work to build a super-efficient, effective, productive practice. Take it a step further and leverage remote refraction. Refract your patients from anywhere—your home, on vacation, anywhere!
About the author:
Dr. Jennifer Stewart is an optometrist, internationally recognized speaker, writer, consultant, and entrepreneur.
She has a passion for helping optometrists and organizations with operations, sales success, practice management and sales team training through her advisory and consulting firm, OD Perspectives. She is the Professional Editor of Independent Strong, is an Adjunct Assistant Professor at the New England College of Optometry and a consultant for Coopervision, MacuHealth, GPN and Zyloware. She is also the recipient of the 2022 Emerging Leader Award from the Optical Women's Association.
With a deep interest in sports vision, Dr. Stewart is the Co-Founder and Chief Vision Officer for Performance 20/20, which provides services for sports and performance vision training. She is a recipient of the Theia Award for Innovation by Women in Optometry and serves on the Executive Board for the International Sports Vision Association.