Advancing Eyecare Insider
Employee Newsletter | Issue 2 | November 2021
Save the Date!
Next Town Hall is February 2, 2022
Welcome to the second issue of the AEC Insider!
Fall is here and we're excited to share news from around the company. In this issue you'll get to know about Service Technician, Jared Stevens, and learn more about our Clinical Support team in Toronto.
We'll also cover how a new AEC product, the VisuALL Virtual Reality Perimeter, is changing the way doctors are diagnosis glaucoma. Finally, check out who's celebrating milestone anniversaries, who's joined our employee team, and other exciting employee news.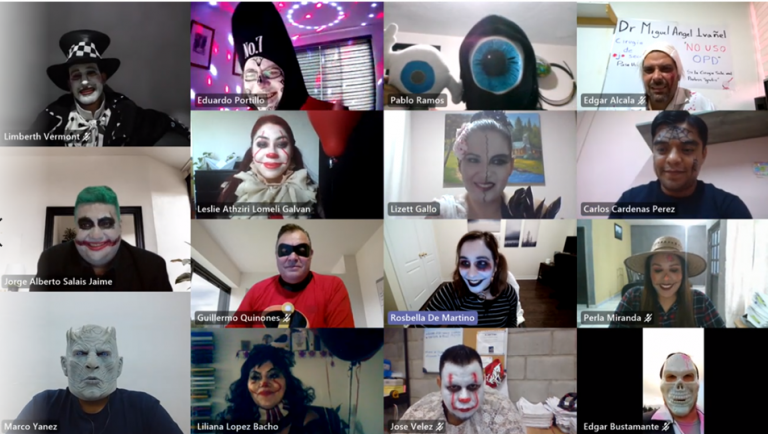 We are THANKFUL for our employees!
As we head into our busiest time of year, we wanted to take a moment to reflect on the year and ask our employees, "What are you thankful for?" Thank you for all your hard work and dedication to our company. Enjoy!
Life is better when you cry a little, laugh a lot, and are THANKFUL for everything you've got.
My fabulous wife, kids, and mom whom I love. My health is great which allows me to get out and referee soccer matches which I love. I'm thankful for my awesome job at AEC and wonderful coworkers/teammates. Bring it on 2022, we are ready!
I want to thank S4optik for the opportunity it gives me to be part of its work team. This support and trust have been of great value to me. It is a pleasure to be part of a work team that allows me to achieve my professional goals and fill me with satisfaction for my goals.
I am very grateful for all of the blessings in my life. I'm thankful that I'm able to walk, talk and breathe. Many people can't. I'm blessed and thankful to work for a great company with amazing people. I'm thankful and grateful for life.
My health, my work, and my upcoming vacation!
I am thankful to be in the company because it has given me the opportunity to develop myself professionally and personally. In addition to that, it has allowed me to contribute to the growth of many people , including my family.
I am thankful for the new opportunity with the Advancing Eyecare Services team.
I'm grateful for my family, my kids and husband especially. I'm also grateful for good health for us all this past year. And cheese, I'm very thankful for cheese!
I am grateful that my new home has indoor plumbing (joke joke…). I am grateful for my family staying close together and supporting each other.
J'ai appris au fil du temps, qu'il n'y a pas plus beaux que sois même. Ne jamais abandonner ses ambitions et toujours continuer d'avancer malgré les obstacles de la vie. Merci a tous ceux qui me permettent d'atteindre mes objectifs.

I learned over time, that there is nothing more beautiful than one self. Don't ever give up your ambitions and always keep going forward despite the obstacles life throws at you. Thankful for everyone who allowed me to achieve my goals.
I am thankful to be part of S4Optik and for all the opportunities to grow and learn day by day in my professional and personal growth.
I'm thankful for my wonderful family. I have an amazing wife and a very curious 2-year-old son.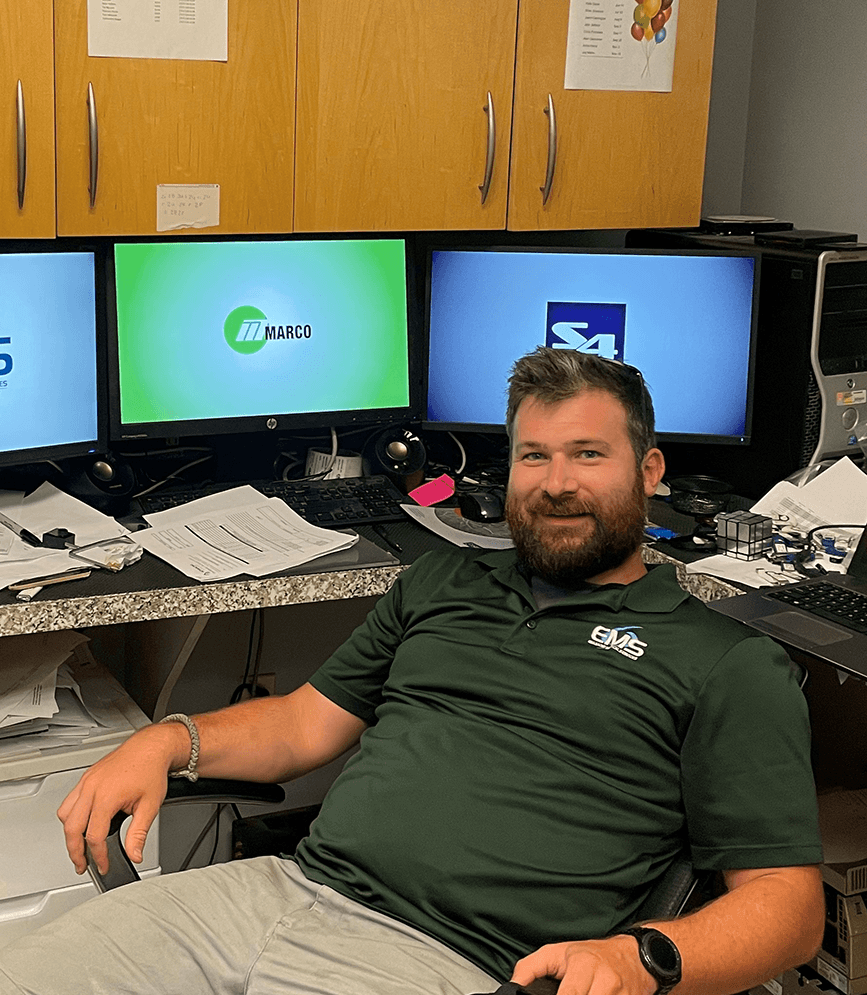 Jared Stevens
If it's broken, he can fix it!

Jared is an Ophthalmic Instrument Service Technician who works in our St. Louis, MO office and specializes in OCTs and Zeiss diagnostic equipment. He can usually be seen working on the guts of an OCT or visual field, or on the phone troubleshooting with customers, sales reps, and service techs.
Q: How long have you been with Advancing Eyecare?
"I joined EMS in 2015. My background was in health sciences, and my first position was doing field service on classical lane equipment in the St Louis area. As the company grew, we became a Topcon repair depot and I took on the role of Topcon Repair Specialist.
Over time, I apprenticed with EMS's expert on Zeiss diagnostic equipment and eventually took over for him. Now I am AEC's primary resource for repairs on OCTs and Zeiss equipment."
Q: What is your favorite part about your role at AEC?
"I like being able to provide a second opinion to customers about the issues their machines are having. I often can save a customer thousands of dollars from what the manufacturers recommend. I also like helping customers learn the various features of their equipment so that they can get the most out of their purchase. Lastly, I really like the hands-on aspect of repairing a device."
Q: Describe your ideal weekend.
"As a parent of two young children and a dog, I would love to just relax, do nothing, and have some peace and quiet."
Q: Tell us something we don't know about you.
"I own about 15 different types of Rubik's Cubes and can solve them all!"
Clinical Support, INNOVA Medical, Toronto, Canada

INNOVA's Clinical Support team based in both Laval and Toronto, Canada supports AEC customers, sales reps, and service technicians in Canada, the US, and Mexico. This team of four specializes in the computerized ophthalmic instruments the company carries, from Haag-Streit to Nidek, and everything in between. They help with instrument preparation in the Toronto office and work remotely on network configurations, clinical trainings as well as software/network troubleshooting.
The team recently was cross-trained to support Marco equipment which has increased the amount of support available to our alliance customers. Their overall working environment is very fast-paced and a bit nerdy, but there's never a dull moment!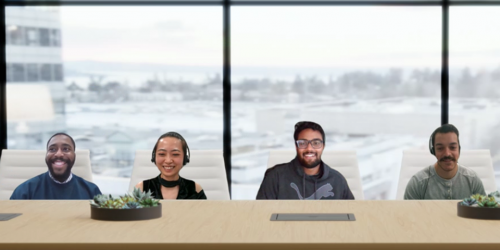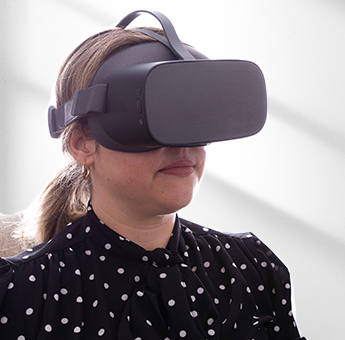 NEW! VisuALL Virtual Reality Perimeter
According to scientific studies and surveys, glaucoma is the most common cause of irreversible blindness. When detected in the early stages, glaucoma can often be controlled, preventing severe vision loss and blindness. However, symptoms of noticeable vision loss often only occur once the disease has progressed, and once vision is lost from the disease, it usually can't be restored.
Glaucoma prevention is only possible with early detection and treatment. Since symptoms are often absent, regular eye exams that include a glaucoma screening are essential.
A new product in Marco's portfolio, the VisuALL Virtual Reality Perimeter, is an innovative technology for screening glaucoma and other eye diseases and has been clinically validated by one of the top eye hospitals in the US. Its light-weight, mobile design and patient-friendly interface allows for a faster, more comfortable, and easy experience for both adults and children.
Final results will be posted in the next issue
Employee News & Announcements
Do you have news you'd like to share? Submit it here and be sure to include a picture!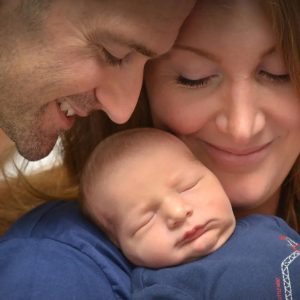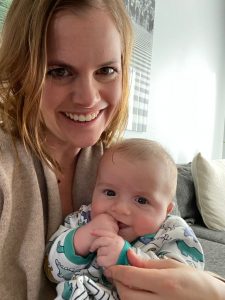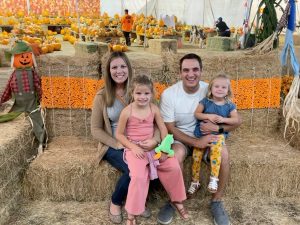 Welcome to All of Our Recent New Hires!
Alexis Ambeault Sales - Ophthalmic, Toronto, Canada
Gerrod Bookhard
Warehouse Associate,
Jacksonville, FL
Tisha Lee
A/P Clerk,
Jacksonville, FL
Abraham Sanchez
Services,
Mexico
Wilhelm Chira Service, Toronto, Canada
Cherianne Cramer Accounting, Jacksonville, FL
Nivethaa Kulendran Service, Toronto, Canada
Paul Micenko
Marco Area Manager,
North FL Territory
Logan Miller Core Territory Manager, Ohio Territory
Gates Muller Core Territory Manager, Chicago, IL Territory
Guillermo Quinonez Sales Representative, Mexico
Kevin Rodillas Accounting & Financing, Toronto, Canada
Henry Xiong Service, Toronto, Canada
Lisa Anderson Sales Support Specialist, Jacksonville, FL
Logan Crow Field Service Technician, Kansas City, MO
Aaron Garcia Warehouse/Inventory Control, Elk Grove, CA
Cedric James Temp Processing Return/Credit, Norfolk, VA
Jesus Nino
Field Service Technician,
Garland, TX
Kirby Richardson Field Service Technician, Greensboro, NC
Jennifer Gillispie Sales Specialist, Garland, TX
Tonza McLeod Temporary RMA processing, Jacksonville, FL
Happy 35th Anniversary to INNOVA and David and Victor Spear!
July-December Work Anniversaries
Thank you for your hard work & dedication over the years!
James Campbell Parts Manager | Lombart Instrument | 42 Years
Robert Kalapp VP – Corporate Accounts | Marco/Advancing Eyecare | 40 Years
Linda Walker Manager, IT | Lombart Instrument | 39 Years
James Parker Assistant Operation Mgr – VA | Lombart Instrument | 35 Years
Jeffrey Perrye Chief Operating Officer | Marco/Advancing Eyecare | 35 Years
David Spear Principal Sr. Management | INNOVA | 35 Years
Victor Spear Principal Sr. Management | INNOVA | 35 Years
Connie Macias Accounts Payable Clerk | Lombart Instrument | 34 Years
Michael Propst Territory Sales Manager | Lombart Instrument | 34 Years
Don Quinn Territory Sales Manager | Lombart Instrument | 34 Years
Thanh Tai Ha Repair Technician | Lombart Instrument | 33 Years

Dawn Grier Operations Manager, West Coast | Ophthalmic Instruments, Inc. | 32 Years
Phillip Herschel Territory Sales Manager | Lombart Instrument | 32 Years
Gerard Talliere Warehouse Manager | Lombart Instrument | 32 Years
Jason La Bounty Business Development Manager | Ophthalmic Instruments, Inc. | 30 Years
John Land Sales Representative | INNOVA | 28 Years
Ronald Wyatt In-house Technician | Lombart Instrument | 28 Years
Ruthann Schwab Government Business Manager | Marco | 27 Years
William Coyle Warehouse Associate | Lombart Instrument | 26 Years
Robert Metelsky Product Manager | INNOVA |26 Years
Diana Ozarko Sales Representative | INNOVA | 26 Years
Suzanne Holt Regional Office Manager | Lombart Instrument
Sabrina Jackson Customer Service Representative | Marco
Christopher Sarakaitis Director of Sales East | Marco
Ryan Nugent Machining Manager | Blue S4
Michel St. Jean Service Supervisor | INNOVA
Doug Wood Production Manager | Blue S4
Stephen Deleeuw In-house Technician
Anita Harris Inside Sales Support


Michael Butler Area Manager West | Marco
Lorenzo Caputo Field Service Technician | Lombart Instrument
Jennifer Cliff Customer Service Representative| Lombart Instrument
Michael Cox Field Service Technician | Lombart Instrument
Priyanshi Doshi Service Team Leader | INNOVA
Pedro Echegaray Service Manager, CA | Ophthalmic Instruments, Inc.
Bennett Howe Area Manager West | Marco
Alfred Huang Service Advisor | INNOVA
Sofiane Kharbeche Senior Technician | INNOVA
Mathieu Paquette Technical Service Coordinator | INNOVA
Curtis Pieske Classical Equipment Specialist | Marco


We are looking to expand our Values Ambassadors team!
The AEC Values Ambassadors meet monthly to brainstorm, promote, and reinforce our four key values across our entire employee base. If you are interested in becoming an ambassador, fill out the form below.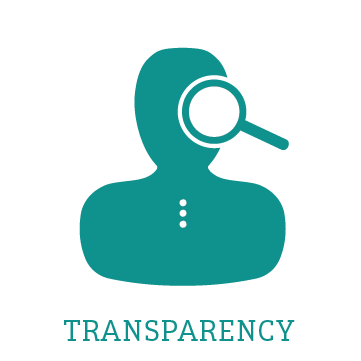 We create trust by being honest with our customers, our colleagues, and ourselves.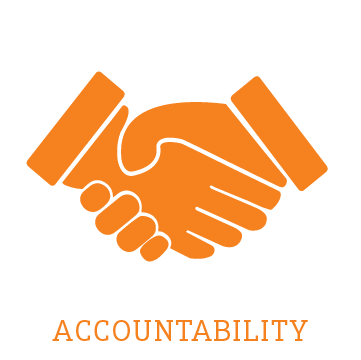 We create value by correcting failures and celebrating successes.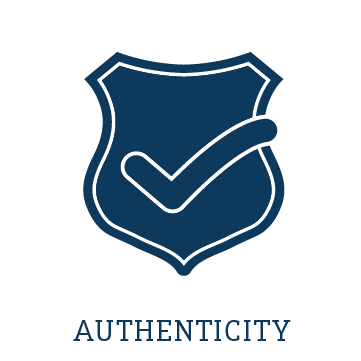 We create loyalty by sharing meaningful experiences and diverse perspectives with others.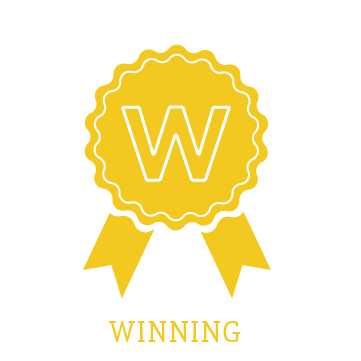 We create results by being first, fast, and fearless.
Advancing Eyecare is an Equal Opportunity Employer.