Advancing Eyecare Insider
Employee Newsletter | Issue 4 | January 2023
Advancing Eyecare:
Our name is our mission
We're growing and expanding our offering to help doctors do what they do best — to practice medicine with the best products and to provide optimal patient outcomes. 
Watch our new corporate video to learn about all the capabilities our Advancing Eyecare companies bring to our customers.
Happy New Year! As we begin 2023, it's a great time to reflect on everything we've accomplished in 2022.
And these are due to our talented team members who work together to make it happen. Take a look to celebrate some major milestones from last year!
JAN
Santinelli joins the Advancing Eyecare Alliance
JUNE
Advancing Eyecare is acquired by Cornell Capital
OCT
Expansion and relocation of Santinelli headquarters to Jacksonville, Florida 
NOV
Veatch joins the Advancing Eyecare Alliance
ALL YEAR
Centralized Platform Integrations and Implementations: Salesforce, SAP, ServiceMax
ALL YEAR
Enhanced Company-Wide Training Initiatives:
Safety, Diversity & Inclusion, Performance Evaluations
Over
56,400
inbound customer calls completed
Over
6.4 million
marketing emails sent
Over
17,500
customers made a purchase
Over
80,950

shipments sent out by our AEC teams
Over
150
tradeshows attended & staffed
Over
24,500
service requests completed
Over
3,400
items produced by AEC Manufacturing
Advancing Eyecare Manufacturing Team Reaches a Production Milestone
The time has come! In November, the tremendous team at our manufacturing facility in Belleville, Canada, has set a new record of 300+ units produced in a single month.
Precise planning, effective problem-solving, and strong teamwork have empowered this group to produce more than they've ever done before.
Supporting divisions in Canada, the US, and Mexico (not to mention our distribution network), Advancing Eyecare Manufacturing is a major differentiator that sets AEC apart.
Congratulations to our amazing team in Belleville!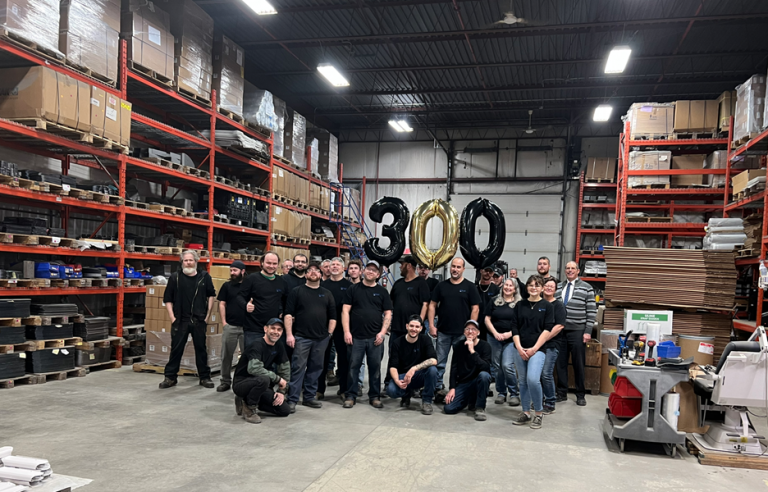 Employee Spotlight
Meet Joey Argott
Meet Joey Argott, our talented Warehouse Manager based out of our Ophthalmic Instruments Irvine office location. He is responsible for shipping, set-ups, receiving, freight, and more—he humbly calls himself a "one-man show". He's been with the company for over two years and brings over a decade of warehouse experience and expertise to AEC.
A Long Beach, California native, he loves spending time with his family and enjoys making handmade rugs. He has two cats, Eleanor and Alice (and Alice weighs nearly 20lbs!). 

 Here are a few fun questions we asked Joey: 
What do you like most about your job?


The best part of my job is the people I work with.


 

What, if anything, are you currently binge-watching? Or reading?




I'm currently really into One Piece, and anime series. I'm a nerd lol!

 

What's one thing on your bucket list?




I've always wanted to climb Half Dome in Yosemite. I just have to work on the fear-of-heights part. 

 🙂

 

Do you think pineapple belongs on pizza?




Indeed it does! Especially with jalapenos.

 
Thank you for all you do, Joey!
Advancing Eyecare Around the Holidays
Advancing Eyecare has been busy this holiday season. From our pumpkin decorating contest back in October, to Thanksgiving Day Parade appearances, and all of the various AEC holiday celebrations, we hope you enjoy these pictures of AEC employees getting into the holiday spirit!
Interested in joining the Ambassadors Team?
The AEC Values Ambassadors meet monthly to brainstorm, promote, and reinforce our four key values across our entire employee base. If you are interested in becoming an ambassador, fill out this form.
Welcome to All of Our Recent New Hires!
Vicki Kelsey-Lowe
Margaret Dean
Molique Coates
Diego Mora
Kristofer Freed
Lennin Reyes
Wilhelm Chira Service, Toronto, Canada
Cherianne Cramer Accounting, Jacksonville, FL
Nivethaa Kulendran Service, Toronto, Canada
Paul Micenko
Marco Area Manager,
North FL Territory
Logan Miller Core Territory Manager, Ohio Territory
Gates Muller Core Territory Manager, Chicago, IL Territory
Guillermo Quinonez Sales Representative, Mexico
Kevin Rodillas Accounting & Financing, Toronto, Canada
Henry Xiong Service, Toronto, Canada
Lisa Anderson Sales Support Specialist, Jacksonville, FL
Logan Crow Field Service Technician, Kansas City, MO
Aaron Garcia Warehouse/Inventory Control, Elk Grove, CA
Cedric James Temp Processing Return/Credit, Norfolk, VA
Jesus Nino
Field Service Technician,
Garland, TX
Kirby Richardson Field Service Technician, Greensboro, NC
Jennifer Gillispie Sales Specialist, Garland, TX
Tonza McLeod Temporary RMA processing, Jacksonville, FL
Alexis Ambeault Sales - Ophthalmic, Toronto, Canada
Gerrod Bookhard
Warehouse Associate,
Jacksonville, FL
Tisha Lee
A/P Clerk,
Jacksonville, FL
Abraham Sanchez
Services,
Mexico
Alexis Ambeault Sales - Ophthalmic, Toronto, Canada
Gerrod Bookhard
Warehouse Associate,
Jacksonville, FL
Tisha Lee
A/P Clerk,
Jacksonville, FL
Abraham Sanchez
Services,
Mexico
Alexis Ambeault Sales - Ophthalmic, Toronto, Canada
Gerrod Bookhard
Warehouse Associate,
Jacksonville, FL
Tisha Lee
A/P Clerk,
Jacksonville, FL
Abraham Sanchez
Services,
Mexico
Welcome to ALL of Our Recent New Hires!
Happy 35th Anniversary to INNOVA and David and Victor Spear!
August to December Work Milestone Anniversaries
Thank you for your hard work & dedication over the years!
Jim Campbell
Dawn Grier
Robert Kalapp
Jeff Parker
Don Quinn
Thanh Tai Ha
Jerry Talliere
Jon Erik Aragon
Matthew Arnold
John Carnevale
Michelle Castaneda
Patricia Casillas Ruelas
Amy Dunn
Matthew Francis
Mike Jaynes
Greg Migdall
Kristen Tischler
Congratulations to AEC Employees on Their Recent Promotions!
Henry Alix – Team Lead – Bench Technicians 
Brandon Henry – Service Manager
Dave Lauer – Vice President Information Technology
Lydia Le – Vice President Customer Strategy
Audrey Legault – Sales Representative SOR Division  – Quebec 
Susan Schofield – Sales and Marketing Manager
Alex Swanson – Territory Sales Manager
Advancing Eyecare is an Equal Opportunity Employer.