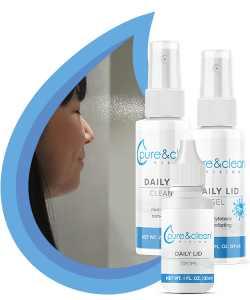 Achieve Better Outcomes With Pure&Clean
Join us for a short panel discussion on how three optometrists have transformed the way they treat patients and how they leverage HOCl in a myriad of ways in their practices. These natural solutions have been revolutionary in easing symptoms of various ocular diseases. Help your patients save money, increase your bottom line, and improve patient outcomes.
Dates/Times:
Thursday, September 28th | 11am and 2pm 
Friday, September 29th | 11am and 2pm 
Location: Advancing Eyecare Marketplace booth (F5045) 
Fresh-baked cookies will be served. 
Note: By entering your phone number, you consent to receive messages for this event via SMS. Messages will only be for event reminders. No additional messages or advertisements will be sent. Message and data rates may apply.